The Right Weight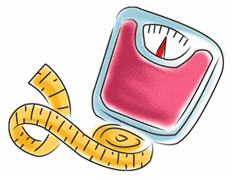 The Right Weight is the weight you should be able to attain without the fear of piling on excess pounds when you resume a normal diet or eating routine. It is your genetically stable weight.
Use the Right Weight Calculator to find out yours
How much did you weigh when you were 18 years old, without dieting (e.g., 150 lb.)?
How much did you weigh at your heaviest, excluding pregnancy weight (e.g., 210 lb.)?
How much did you weigh at your lightest after age 18, with or without having dieted (e.g., 140 lb.)?
What is your current weight (e.g., 200 lb.)?
Add your results for A and B, and divide their sum by two. This becomes result E. Then, add your results for C and D, and divide their sum by two. This becomes result F. Add E and F and divide this sum by two. This is your Right Weight!
This helps you set a realistic weight loss goal. If you can remain at your Right Weight for 6-12 months, you can recalculate your new Right Weight.

Your Stories
Anne-Marie

"The meal plans work, and the results are incredible."*

Corinne

"I reached my goal with ease. I was pleasantly surprised."*

Gislaine

"I met my exercise buddy through the forums. The community really helps!"*
*The testimonials presented are individual experiences that are neither advertisements nor guarantees. As with any diet program, monitored meal plans and regular exercise are required to lose weight for the long term. Always seek the advice of your physician before starting a weight loss program, an exercise program or when changing your eating habits.
It's more than a diet,
it's a way of living!
"For a weight loss plan to work, it must not feel like a diet. To turn it into a real lifestyle, it must be enjoyable, sustainable, and flexible."